As seen on THE HUFFINGTON POST
The Forbes Under 30 Summit recently brought an all-star lineup to Boston, from entrepreneurs and business icons to celebrities and musicians. Among those impressive voices was Tyler Haney, founder and CEO of Outdoor Voices, a brand that is redefining recreation and fitness.
Prior to sitting down with Haney, I had the opportunity to see her in action on stage with Sir Richard Branson, Forbes editor Randall Lane, and fellow millennial entrepreneurs Payal Kadakia (CEO, ClassPass), and James Proud (founder, Hello Inc.). Haney's enthusiasm, confidence, and energy were palpable in the packed and historic Faneuil Hall auditorium.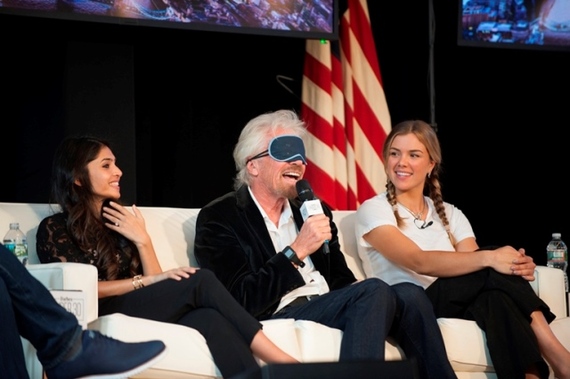 Photo: Sir Richard Branson is flanked by Payal Kadakia (left), CEO of ClassPass, and Tyler Haney, founder of Outdoor Voices, at the Forbes Under 30 Summit in Boston.
Photo Credit: Forbes/Melissa Ostrow

The Younger Haney
Haney, 28, is a self-described athlete who grew up in Boulder, Colorado. As a child, she biked, hiked, and rode horses. In high school, her focus turned to competitive sports like track and field and basketball.
Haney's mom had a strong influence on her — her mother's catchphrase was "TYB, baby!" which was shorthand for "try your best." From an early age, Haney was infused with this "can do" attitude. "I was attracted to building things and problem solving since I can remember," Haney says.
At the end of her high school career, Haney left track on the sidelines to attend Parsons School of Design. While there, she became interested in technical fabrics able to function across multiple activities. Soon after, she honed in on a mission: creating a workout brand that celebrates activity instead of competition. The neon/black/mesh apparel on the market at the time — and the unforgiving credo of harder, faster, stronger — did not feel right to Haney. So she set out to correct this.
Shortly after graduation in 2012, Haney began crafting a new category of activewear: Outdoor Voices, a workout line characterized by full, rich colors and distinctive sweat-wicking and compression-oriented material. Haney notes the company name is a play on "indoor voices," the phrase adults often use to hush their children.

"Can Do" to Doing Things
Today, there is no doubt Haney is the new, fresh face of activewear.
If there is a personal brand attribute I've learned most leaders share, it's tenacity. Great business owners welcome risk and failure alike, and keep trekking along with the awareness that success is just around the corner. This is Haney to a tee — after all, she disrupted an industry to create a winning brand.
Outdoor Voices was founded on the belief that Doing Things — moving your body and having fun with friends — outlasts a win when it comes to inspiring sustainable, active lives. The brand's mission is to get people out there Doing Things together, and to redefine recreation as a part of everyday life. Haney wants to "free fitness from performance" and bring joy, humor, ease, and delight back to activity. Her brand appeals to athletes and non-athletes alike.
Haney's strong sense of purpose and desire to "do good for the world" has translated into Outdoor Voices' Doing Things Day, an alliance with Partnership for a Healthier America (PHA) to create positive experiences for children and healthy lifestyles nationwide.

High-Energy Growth
In just three years, Haney has revolutionized fitness wear. She attributes her company's growth to having a great product, and also her team of 52 employees who "bring enthusiasm into whatever they do." Passionate customers are also an important part of the equation, and brand enthusiasts include superstar Lena Dunham who gave Outdoor Voices a shout out in an Instagram post.
With headquarters in Manhattan and Austin, the Outdoor Voices community continues to expand nationwide with a heavy focus on online growth. There's no doubt Haney's brand is one to watch.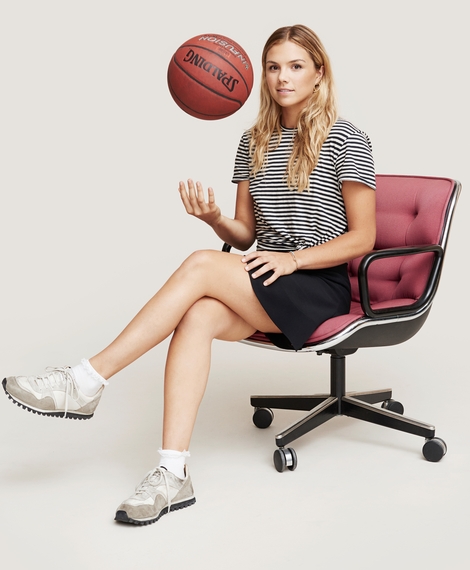 Tyler Haney, CEO
Courtesy of Outdoor Voices


CEO as Brand Asset
As CEO, Haney knows there's a need to develop a unique personal brand that compliments and strengthens her business' brand. A CEO must make an emotional connection with their target audience — hiding away in an ivory tower isn't an option. Indeed, many CEO studies affirm the importance of CEO influence today. A recent study conducted by Weber Shandwick, in partnership with KRC Research, reveals that a CEO's reputation and engagement is critical to corporate reputation. Study results indicate that in addition to enhancing market value, a strong CEO reputation attracts investors, generates positive media attention, affords crisis protection, attracts new employees, and retains current employees.
Haney has done a stunning job of building her reputation and engagement. When asked how she would describe herself, Haney says, "energetic, light up a room, loyal, transparent, fun-loving, enthusiastic." It's clear that Haney has integrated these same attributes into the company she leads.

Team Captain Mentality
Besides developing a CEO persona, it's critical to build a powerful team. Since employees can be a company's most powerful brand advocates, engaging and inspiring them is essential. Haney describes herself as a team captain and believes that "bringing people together through activity is part of her DNA, builds confidence, and helps get her staff motivated." She continues: "Exercise should be less about competition and more about enjoying the limited time we have to exercise."
Haney defines her leadership style as open and trusting and identifies her biggest strengths as an "ability to attract best-in-class, inspired people." Haney has created a high-performance culture where activity is infused into work, from team yoga classes to basketball games to a jogging club.
"Recreation is important," Haney says. "It really doesn't matter if your activity is the elliptical or climbing mountains or Pilates — it's about the love of being active."
There is no doubt that Haney is changing the world by Doing Things. So, some words to remember: TYB Baby!